Nearby Now SEO Master Review System
Getting everything you want out of search engines through customer reviews!
Watch This Nearby Now Video
Are You Being Found in the Cities You Service?
Get more online reviews and explode your local search results at the same time!
Learn More About Our New Add-On Nearby Now Voice
Nearby Now is a Reputation Marketing and Online Reputation Development tool. It enables active reviews, solicitation/proliferation and dynamic service summary check in which helps your business capture the goodwill of your current clients and leverage them to generate future leads. The dynamic review and keyword-rich summary content can then be used on your PagePilot website to yield huge SEO gains. This is the new best practice for local service businesses redefined.
To go over Case Studies showing the difference Nearby Now has made for our customers,
give us a call at
888-966-4785
.
Click on the video to watch a quick 15 -minute video explaining how the Nearby Now PagePilot add-on uses the calls you run every day and the customers you service to create the unique local content which search engines look for when indexing a site.
See the Questions Webmasters Often Ask About Nearby Now
Nearby Now Resources & Downloads
mp4 Format - Works best with pads, tablets and smart phones
Technician Handout - Introduces customer to review program, builds trust and explains need for tech to obtain email address or cell number for feedback purposes.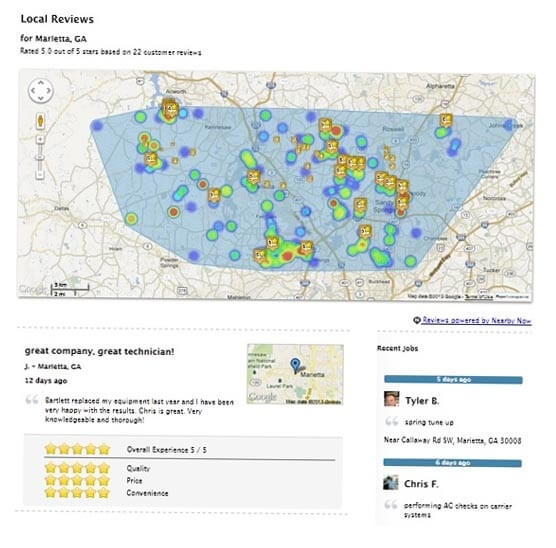 Nearby Now Phone App Requirements
Requires:
Android 4.0 or later (as of 8/21/15)
Requires:
iOS 7.0 or later (as of 8/21/15)
*Compatible with iPhone, iPad & iPod touch.
*The app is optimized for iPhone 5, iPhone 6 and iPhone 6 Plus.
Support Needed for your Nearby Now Setup
PagePilot
If you have a PagePilot website hosted by Online-Access, we can make the changes needed to bring your Nearby Now review pages into your site. You don't need to do anything.
Wordpress
If your site is based on the WordPress platform and your Nearby Now review pages are to be hosted within the site, click here to learn what we will need from you.
A one-time $99 start up fee applies to setting up Nearby Now in a Wordpress website.
Nearby Now Review Page Examples
Click on the image to see the live page and how interactive it is
Give Us a Call at 1-888-966-4785 to Sign Up