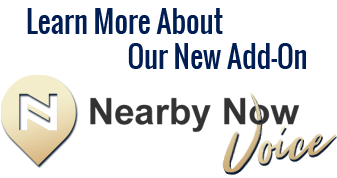 Nearby Now is a Reputation Marketing and Online Reputation Development tool. It enables active reviews, solicitation/proliferation and dynamic service summary check in which helps your business capture the goodwill of your current clients and leverage them to generate future leads. The dynamic review and keyword-rich summary content can then be used on your PagePilot website to yield huge SEO gains. This is the new best practice for local service businesses redefined.
To go over Case Studies showing the difference Nearby Now has made for our customers,
give us a call at
888-966-4785
.
Click on the video to the left to watch a quick 15 -minute video explaining how the Nearby Now PagePilot add-on uses the calls you run every day and the customers you service to create the unique local content which search engines look for when indexing a site.
See the Questions Webmasters Often Ask About Nearby Now