by David Squires - Online-Access posted August 31, 2015
Recently one of our clients received a demand letter and invoice for over $2,000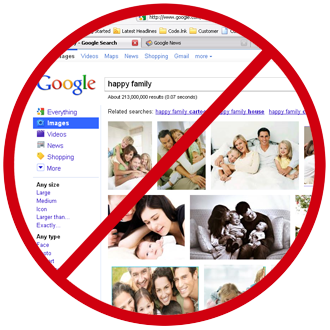 for a picture that was found on their website that they did not own or license. The company invoicing them was called Masterfile Corporation out of Toronto Canada. If you're thinking "scam" as you read this—you couldn't be more wrong. In fact, if you do a quick search on pending intellectual property lawsuits in the USA, you will find 76 lawsuits filed by Masterfile in 16 states—and these are just the few who didn't settle and pay up.
If you think it can never happen to you—think again. Also, don't think that getting caught means you get a slap on the hand and a gentle warning. Getting caught simply means you're going to pay big. Most of the companies getting these letters weren't even responsible for the choice of pictures in their website. In fact, most of the fines were not deliberate thefts from the stock-image companies, but pictures obtained from other sources that may or may not have had license to use them. Stock image companies like Masterfile are using sophisticated image recognition software to spider the web. This software can recognize even a small piece of the images to which they have copyright.The irony of the invoice my client received was that the picture they were being billed for was a digital image that a former employee had created in Photoshop where he had blended two pictures together. Unfortunately, he used a piece of a picture he found on the web to do it with. The company assumed that it was appropriately secured. Unfortunately, Masterfile--and the law—say it wasn't. In fact, after doing more research, the $2,000 being demanded from my client was a bargain when I read about other small businesses complaining of having to retroactively pay $40-$50K for illegal use of multiple images found in their websites. One case I followed involved the owner of a small retail business that had to pay $10,000 for two pictures on his website that his daughter's boyfriend built for him. Hopefully the young up-and-coming webmaster will be able to research the Digital Millennium Copyright Act (DMCA) now that he's probably single again with more time on his hands.
If you do get caught illegally using images from these guys… picture that the hand pointing the finger at you is putting on a latex glove…
Having had to enforce our own intellectual property rights by asking contractors to remove copyrighted content they "borrowed" from the websites we provide our clients, Masterfile appears to have turned what I always saw as a thankless, but necessary, job into a gold mine. Most of the accounts I read on a forum dedicated to victims of these letters were from people that didn't even put the picture on their website, but it was provided by the guy that built it for them. One such victim actually attended a presentation in Toronto given by a "Copyright Compliance Officer" of Masterfile where the representative stated that over 85% of the stock photo industry's revenue now comes from demand letters and litigation.
To give you an idea why the images on everyone's websites are being scrutinized so closely, Getty Images & Corbis, two major players in the stock image industry, annually uncover 42,000 & 70,000 violations respectively. Each of their violations has an average fine of $1,000-$1,200. When you do the math, the 112,000 plagiarized pictures they find that may have been only worth $1-3 million in licensing fees, now bring in about $123 million in the punitive fines they demand—and their fines are fairly low when compared to companies like Masterfile.
Protecting your company in a virtual world from virtual thugs
Although I understand and agree with the need to police copyright, turning litigation into your major profit center is just wrong. Bankrupting a small business for a mistake that may not even be their fault is not my idea of a business of which to be to be proud. So, how do you protect yourself from inadvertently getting squeezed by the new virtual copyright thugs? First off, the best defense is an aggressive offense. Don't wait for Fed-Ex to deliver your own personal invitation to meet their lawyers, instead be proactive. Here are a few things you should consider today.
Make sure you are using a reputable web designer who you can trust. My company, Online-Access goes to great lengths to take its own pictures and create its own images so we can offer our clients access to safe images they can use on their site. However, if your web site designer utilizes stock-photos or professional photos in developing your site ask for and keep on hand a copy of all the licensing documents.

Don't depend on your web guy to keep the proof of license for you since he's not the one who will be getting the Fed Ex package from a "Copyright Compliance Officer" at Masterfile. More than one webmaster who gave an unbelievably low price to build a company a website has quietly disappeared when one of his clients gets a demand letter for $35K for illegal images he mistakenly thought were royalty-free.


Take your own pictures and use them in your website. With digital cameras today there is no excuse not to since, if the picture doesn't look quite right, you simply keep taking more until you get a good one. Sort of like the idea that enough monkeys and typewriters would eventually result in the tome 'War and Peace'. Besides, it's not like you're going to pay additional money developing the ones you don't use.


Do not "borrow' pictures where you don't have permission. If you do get permission, verify that the picture really belongs to the person giving you the OK. A lot of times, many of the borrowed pictures that get caught are pictures borrowed from other sites or brochures the producer of which had obtained a license limited to their use only. Having a license to use a picture does not constitute ownership. Whether the image may be shared depends on how the license reads.


In many cases, your product manufacturer will supply you with images to use. You are probably safe using images from their website since it would be hard to imagine a manufacturer suing their own dealer for using their material to help them sell their product. However, that being said, you probably still should make the effort to obtain permission through your distributor. If, by some stupid logic they tell you no, then follow up with the question, "What brand do you recommend I put on my website instead?" That question has good chance give you the logical 'yes' you were after with your first question.
Be careful to steer away from brochure or non-industry related marketing images on manufacturer material since many of the 'smiling people' images are likely licensed only for marketing produced by the manufacturer. A quick way to judge would be if the image doesn't have a branded piece of their product in the picture—there's a good chance it may not be theirs to let you use it. Of course, if you find any identical photos through stock sources you can obtain your own license and right to use the photo.
Finally, take the time to go through your website and make sure you know that any pictures you've added are ones you either own, have licensed or have obtained permission of the owner to use. When in doubt, ask yourself if it's worth paying a few grand to keep it. If not, deep-six it and replace it with one you do own (see #3 above).
Remember, if you do deliberately choose to use images and written content on your website or in your marketing—material that you don't own or have permission to use—it isn't as easy to get away with it as it used to be. With search engines and image tracking software, finding plagiarism on the web is no longer like you're a 'tiny needle' hiding in the proverbial 'hay stack'. It's more like you're playing 'Russian Roulette' with a fully loaded gun.
© 2015 Online-Access.
This article may be freely used and republished under condition that it is used in its unaltered entirety and author credits and any source links remain intact.